Below you can find a list of some of the best TVs that you can use as your main gaming monitor with your Xbox console. Most TVs presented below are not cheap, as you will need to pay more if you want to get a good panel capable of running console games and at the same time manage proper TV content at the highest quality.
All the TVs presented in this post are UltraHD 4K and HDR capable, so you shouldn't worry too much about these models being too different. However, you should know that some of the units below are coming with better input lag, lower panel response time, and higher vertical digital frequency. All these matter when it comes to connecting your TV to a gaming console like the Xbox One X.
When a TV has a low input lag it means that the time it takes for a command to be sent from your Xbox controller to the screen is at the lowest possible. Every time you look to buy a new TV for Xbox gaming you should look at the input lag and screen response time values – if those values aren't under 25ms, then you won't be having a great gaming experience. Also, in case you will buy a totally different TV model than the ones listed below, then you should look for a Game Mode function that most Smart TVs launched in the previous years should be packing inside.
LG C8 OLED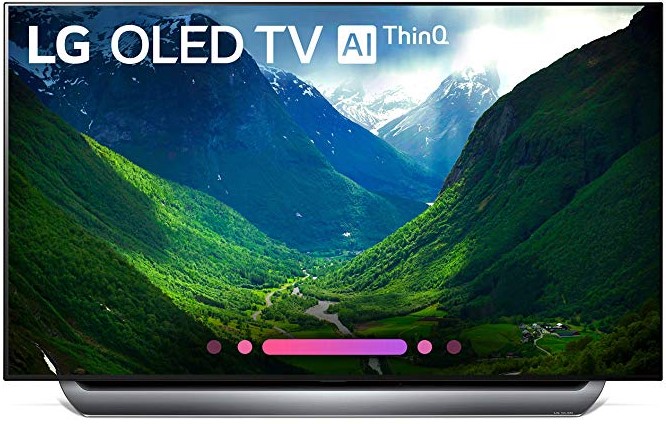 The LG C8 is an OLED HDR 4K TV with a low input lag and great response time when it comes to gaming. We know that this model is not the cheapest one, but if you want to get one of the best Xbox gaming experiences, then the LG C8 units are the ones that you should buy. If you cannot get your hands on the LG C8 model, as it might not be available for purchase, then you can choose to buy the LG C9 2019 model instead. Note that the LG C9 is way pricier than the C8 unit, but it is understandable as it is an upgraded and improved variant.
LG C8 Oled 2018 TV comes with great blacks, low motion blur, and a very low input lag and response time. Another great thing about the LG C8 is its design, as its top half where we only have the panel measures only 0.9 cm – this makes the C8 one of the thinnest TVs currently available for purchase. The bottom TV half where the hardware sits measures 4.8 cm.
Some of the most interesting features that you will get out of the LG C8 are as following: Perfect Black panel, 1ms minimum response time, LG ThinQ AI, Ultra Luminance Pro, α9 Intelligent Processor, 4K Upscaler, Object Depth Enhancer, Intense Color, Pixel Level Dimming, True Color Accuracy Pro, and others more.
If you want to buy the LG C8 model, then you can get it from Amazon. The pricing is set currently at $1500. If you cannot afford it, then we strongly recommend you to check the other cheaper models below. Since the TV is an OLED you will have to enable Pixel Refresher feature and Screen Shift in order to avoid any burn-in marks from appearing after extensive gaming sessions.
LG B8PUA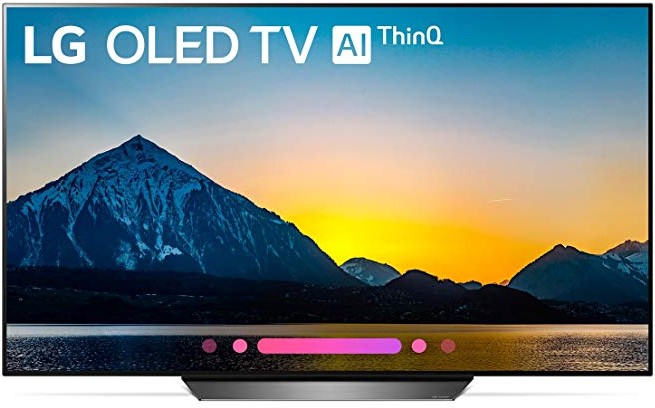 The LG B8 is a cheaper version of the above C8 model, and it is packing almost the same OLED UltraHD 4K HDR panel. The B8 models comes with perfect blacks and no motion blur when playing games.
The LG B8 comes with tons of cool features just like the other C8 model above: active depth enhancer, enhanced dynamic tone mapping, perfect Black Panel, Ultra Luminance Pro, LG ThinQ AI, α7 Intelligent Image Processor, 4K upscaler, Infinite Contrast, 4K Cinema HDR, and support for all voice assistants.
For those of you that are looking to game extensively using the Xbox One X console, then you can buy the LG B8 as it comes with a very low input lag, and the display minimum response time is set at 1ms. The LG B8 design is beautiful, as the top half measures only 1.0 cm in width, while the rest of the hardware is present on the back of the bottom half of the TV. Make sure not to grab the TV by the top half when moving it, as it looks somewhat vulnerable and you will end up breaking something if you aren't careful.
Please note that after you connect your Xbox One X to the LG B8 you will have to tinker with the color settings, as the HDR function will set a lower brightness value at first. Also, you should know that the TV is using OLED technology and it is susceptible to image burn-in, so you will need to enable Screen Shift and Pixel Refresher functions in order to prevent burn-in.
The LG B8 model pricing is now set at $1200 on Amazon. It is not the cheapest solution for casual Xbox gamers, but it comes with great picture quality and great hardware specs that should offer excellent WebOS Smart TV experience.
LG SK9000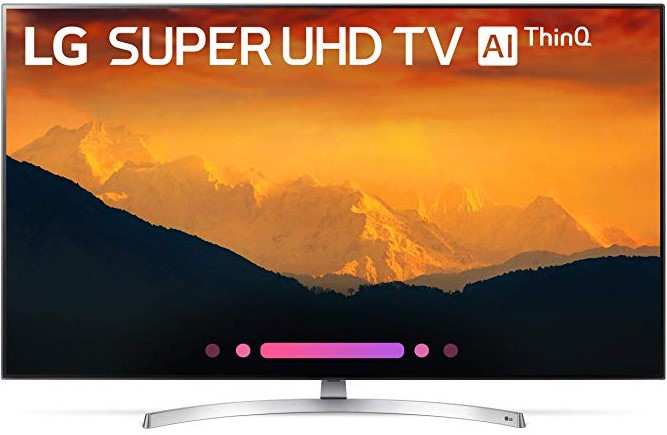 In this post we have another great LG TV launched in 2018 and one that can be used for an excellent Xbox gaming experience.
The LG SK9000 panel's minimum response time is set at 5ms, and the screen input lag sits at 15 ms, making this unit a great choice when gaming on your Xbox. The panel's backlight source is Direct LED and you will get better colors and much better contrast when gaming. This model comes with 4 HDMI 2.0, and 3 USB 2.0 ports.
The main features that you will find on the LG SK9000 are: the α7 Intelligent Processor, Local Dimming, Nanocell Color pro, 4K Cinema HDR, Nanocell Display, Ultra Luminance, LG ThinQ AI, 4K Upscaler and the WebOS 4.0. Check our dedicated LG SK9000 page to learn more about this TV, and if you would like to buy one, then you can get it from Amazon.
Vizio P-Series 2018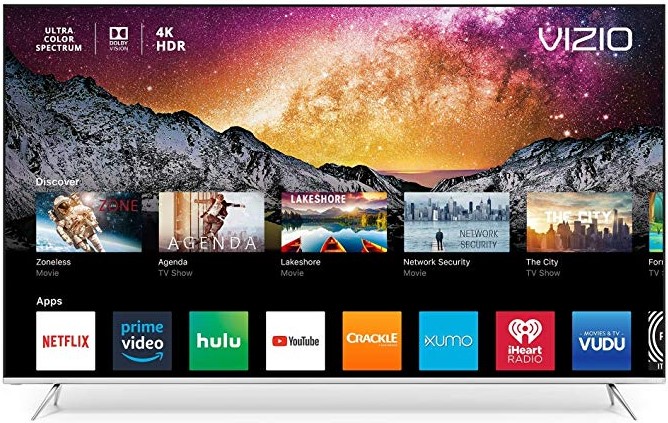 The Vizio P Series 2018 is a beautiful TV that comes with low input lag, and fantastic motion handling that should offer a great gaming experience when paired with an Xbox console. The panel type is VA and it is a 4K UltraHD HDR with direct-LED backlighting and a screen input lag set at 15ms, and a display minimum response time set at 5ms. The digital frequency measures also 120Hz, so you should be getting a clear crisp image quality when using your Xbox console.
Some of the main features that you will find on the Vizio P Series 2018: SmartCast with Chromecast support, spatial scaling engine, UltraBright technology, active Full Array Pro, Dolby Vision, HDR10, and HLG, HDCP, light sensor and Vm50 UltraHD Engine.
The Vizio P Series is available on Amazon right now.
Vizio PQ65-71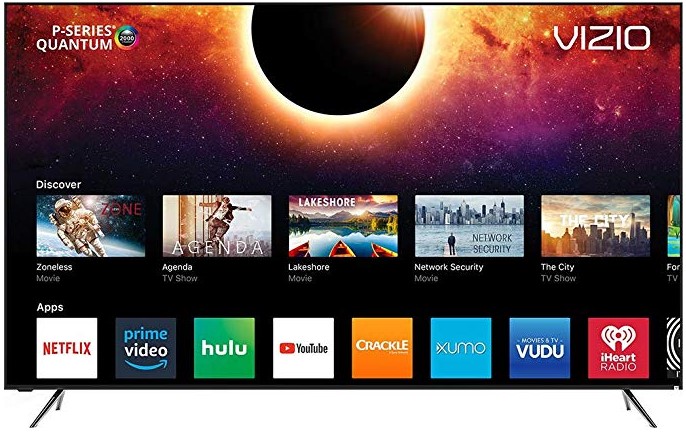 This Vizio PQ65-71 model is an excellent choice if you're planning on gaming on your TV due to a minimum response time of 4ms and a very low screen input lag set at 10ms. The pricing for this model is set at $1300 currently.
The Vizio PQ65-71 comes with SmartCast UI, and support for Chromecast, Light sensor, ultra color spectrum, VM50 Ultra HD engine, UltraBright 2000, Active Full Array Max, Quantum Dot Display, adn voice command support. The panel is VA and it comes with 120Hz vertical digital frequency, and an interpolation value set at 960.
TCL R617 2018 (6 Series)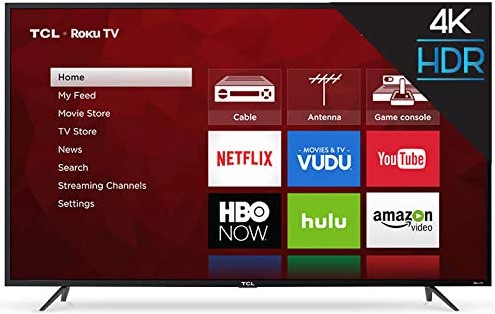 The TCL R617 was launched last year and it comes with a VA panel, a display minimum response time set at 6ms, and a screen input lag of 18ms. You can find this model at a much lower price than the other TVs presented in this post. If you're looking for a budget-friendly TV, then the R617 TV by TCL should be enough for your Xbox setup.
TCL R617 is a 4K HDR UltraHD LED TV that is capable of delivering a more than decent gaming experience for those looking to hook their Xbox to a TV. Also, if you're interested in the TV part of the unit, then you should that it runs Roku OS, and it is using iPQ Engine, Wide color gamut, Contrast Control Zones, HDR Pro Gamma, and a vertical digital frequency set at 60Hz.
Sony XF90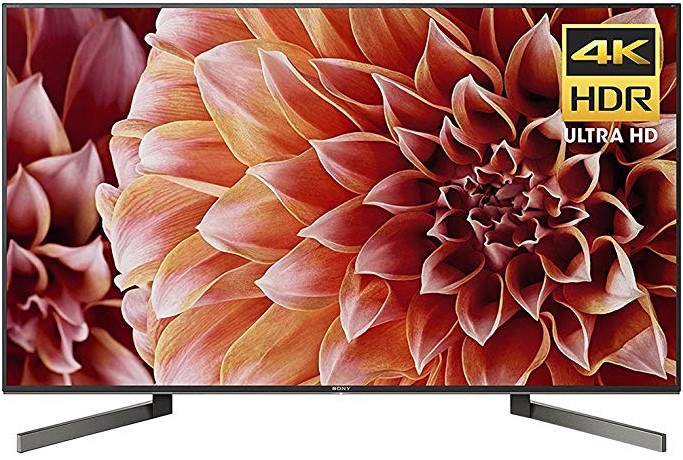 The Sony XF90 UltraHD 4K HDR is one of the most powerful Android TVs you can buy this year, and it is also great for Xbox gamers. It comes with 120Hz vertical digital frequency, 25ms screen input lag on a panel with Full Array Local Dimming (FALD) backlighting. The display type is obviously VA with a pixel density set at 81 ppi. Sony XF90's main features are Bravia Sync, X1 Extreme Image Processor, 4K X-Reality Pro, X-tended Dynamic Range Pro, Triluminos Display, Dual database processiing, Super Bit Mapping 4K HDR, and more.
Samsung Q70/ Q70R OLED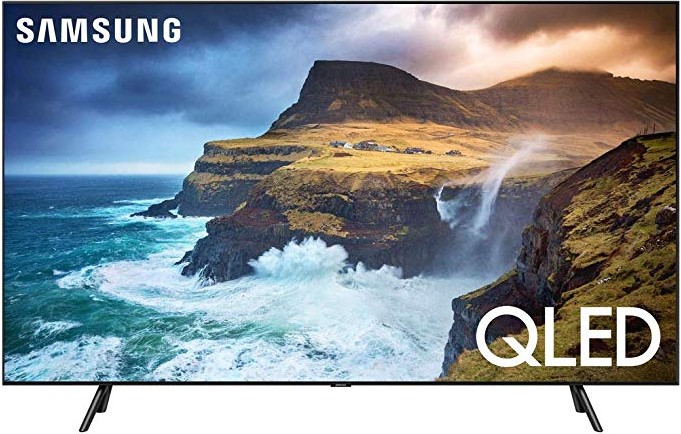 The Samsung Q70 is one of the best TVs when it comes to gaming on an Xbox console, as it features only 4ms display minimum response time and only 15ms for screen input lag. The TV also packs a Game Mode feature that should allow you to easily set your image and motion preferences in a way that will greatly enhance your Xbox gaming experience.
Here are some of the best features that you can find on the Samsung Q70: 120Hz vertical digital frequency, direct full array 4x, Quantum Dot Color, Ambient Mode, 4K AI Upscaling, Game Mode support, light sensor, Digital Clean View, Auto Motion Plus, Ultimate UHD Dimming, and all these are running on Tizen 5.0 OS. The pricing for this model is set somewhere around $1000.
Samsung Q8FN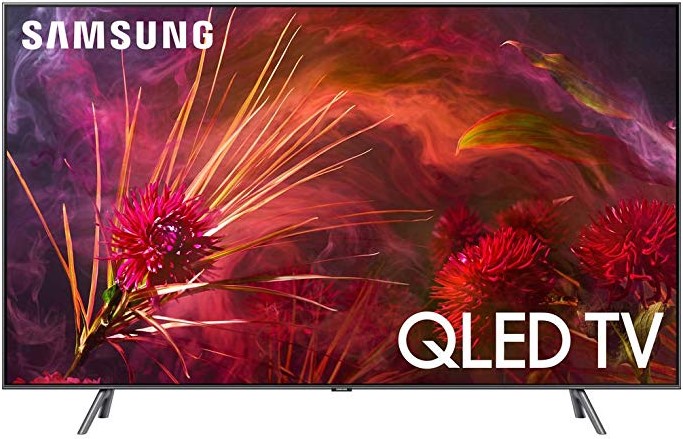 The Samsung Q8FN is an HDR 4K UltraHD QLED TV launched in 2018 and it is capable of showing full 4K resolution at a vertical digital frequency of 60Hz.
Note that you will have to enable the Game Mode in order to get the best out of this model when connecting it to a Xbox console. The Game Mode feature should be enabled automatically every time the Xbox gets connected, but you should try and tinker with some of the feature's settings in order to get the best performance out of the Samsung Q8FN TV. Check the device on Amazon to learn more about the pricing Samsung has set for each TV size.
The Samsung Q8FN comes with Q HDR Elite, Q Color, Q Contrast, Q engine, Quantum Dot Color, light sensor, contrast enhancer, Ultra Black, Super UHD Dimming, UHD Upscalling, Auto Motion Plus, and the latest Tizen OS version.
Samsung RU8000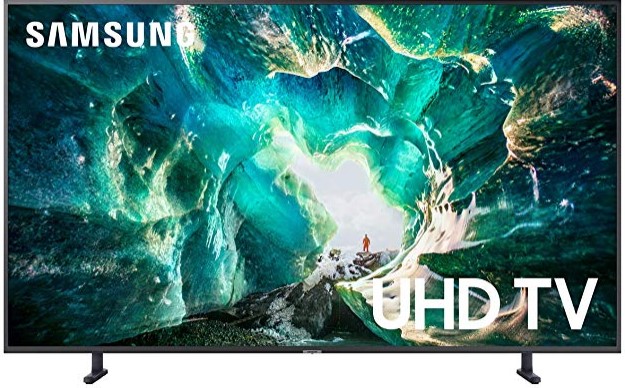 The Samsung RU8000 was launched this year and it is an UltraHD 4K HDR TV and excellent motion handling that offers fast response time and low input lag.
The Samsung RU8000 also comes with the Game Mode function which is enabled every time you connect your Xbox console. The Game Mode on the Samsung RU8000 allows you to enable Auto Motion Plus function that supports 120Hz, but since you're using it with an Xbox console you will only need the 60Hz, and for that to work you can use the LED Clear Motion function and get the best possible FPS out of your TV panel.
These were all the UltraHD 4K HDR TVs that we had for you. All the above models will provide a more than great Xbox gaming experience and we hope that you have found what you were looking for. Also, please make sure to visit our dedicated Display web page for each model posted above and pit them one against the other using the "Compare" function.