This post contains info on some of the best possible gaming monitors that are coming with AMD FreeSync support. Our list comprises monitors measuring 27 inches in diagonal size, are FreeSync compatible and are using IPS, VA and TN panels.
AMD FreeSync provides adaptive synchronization technology for LCD panels that are offering support for dynamic/ variable refresh rate. Using AMD FreeSync should get rid of screen tearing and stuttering. This technology has been designed in order to greatly improve gaming performance. In order to enjoy the FreeSync technology you will need to own monitor and AMD GPUs that are supporting the technology. All the models presented below are coming with built-in FreeSync capable panels, so you will only need a computer with a GPU that has FreeSync support. If you've bought a new AMD GPU in the last 4-5 years, then FreeSync should be natively supported by it.
AMD FreeSync is supported by both DisplayPort and HDMI ports and cables. Note that some HDMI ports on various gaming monitors might not support variable refresh rates, and you will have to use a DisplayPort instead. If your gaming monitor has been delivered only with an HDMI cable, then you should make sure that it supports FreeSync, as if it doesn't support it, then you will require to purchase a capable DisplayPort cable, too.
Note that some of the models presented below should also feature G-Sync compatibility, too, but we cannot guarantee that it will work as great as the FreeSync technology.
ASUS VG279Q - 27" Full HD IPS Display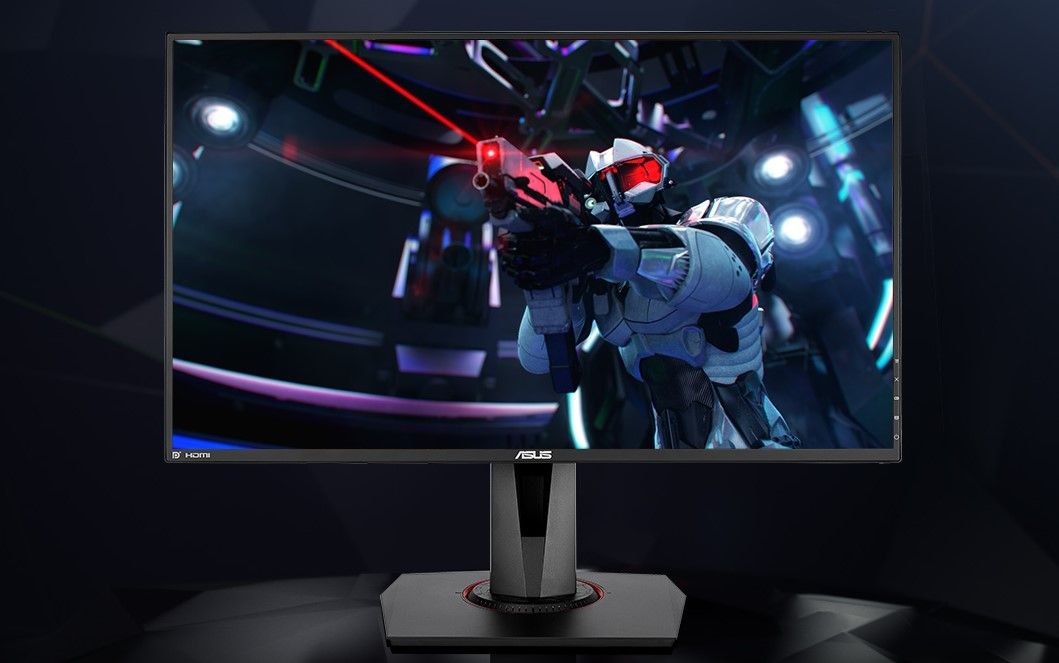 The VG279Q gaming monitor by ASUS is a model that comes with one of the best IPS panels. This monitor offers 1920 x 1080 resolution on an IPS panel with 144Hz refresh rate. If you get this monitor then you will get great picture quality, good maximum brightness value, good wide viewing angles, and almost perfect gray uniformity.
The design of the ASUS VG279Q monitor is nothing out of the ordinary, as the bezels are thin enough not to distract you in case you want to use a multi-monitor setup. The stand offers tilt, swivel, pivot and height adjustment. Also, the cable management can be done using the hole in the stand's arm.
This monitor has been designed with the objective of providing great gaming performance for fast paced titles, as it comes with low input lag, fast response time and 144Hz refresh rate for a fantastic smooth gaming experience. The ASUS VG279Q comes with 1x HDMI 1.4, 1x DisplayPort 1.2, and a dual-link DVI-D port. Also, it packs 3.5mm headphone jack. Please note that after buying the monitor you will need to tinker with some of its color settings in order to get better color accuracy.
SAMSUNG C27HG70 - Curved VA Display QHD 1440p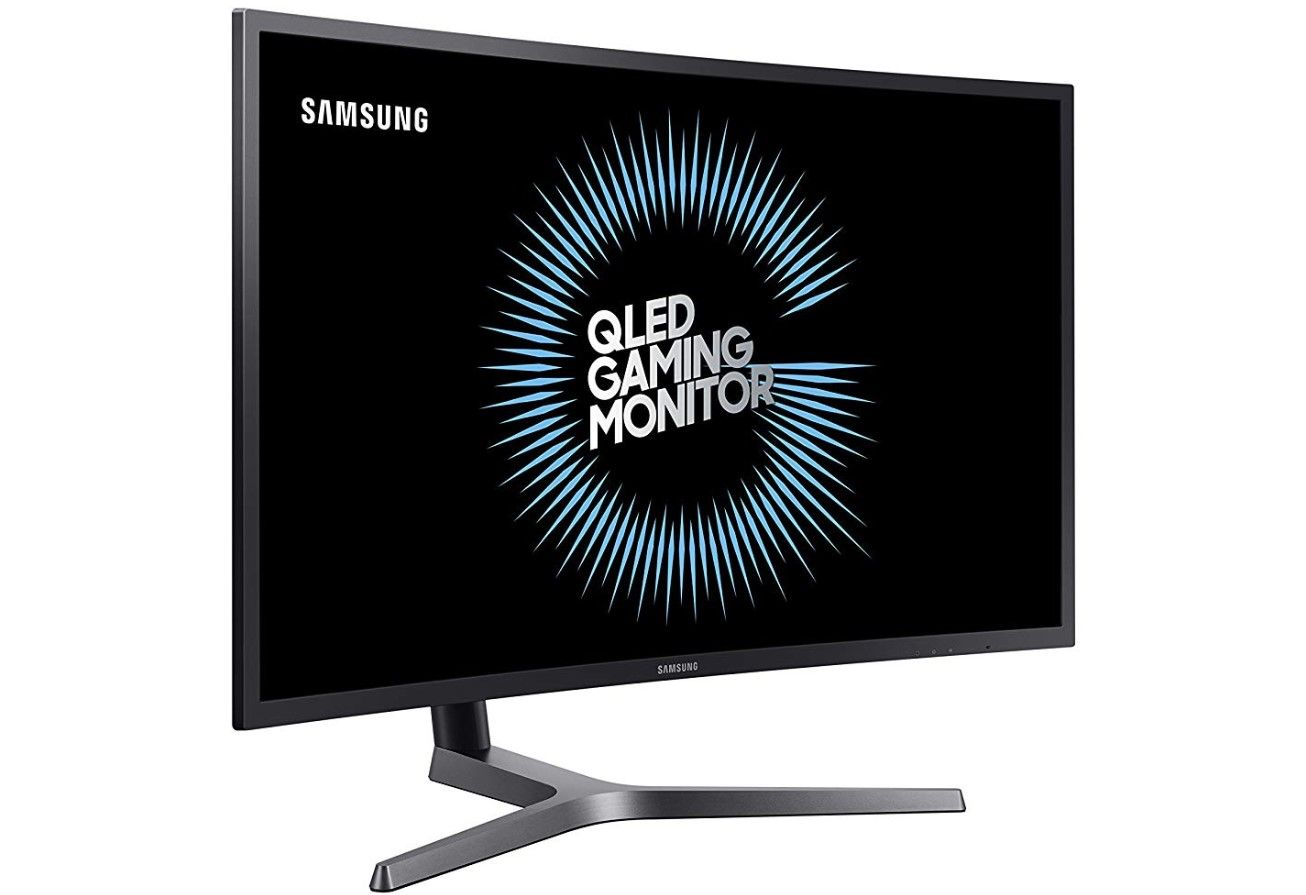 Samsung's C27HG70 curved gaming monitor uses a VA panel with a 1440p screen resolution capable of 144Hz variable refresh rate. Being a VA monitor you should expect it to offer excellent color quality and accuracy, but a slower response time when it comes to gaming. However, since this monitor is coming with FreeSync technology out of the box, then you should be getting good input lag at a variable refresh rate of 144Hz, which should be enough to compensate for the slow response time.
The Samsung C27HG70 design offers a curved VA panel with a curve radius of 1800R and not so thin bezels. The stand's design doesn't allow you to place it too close to a wall, but it has an LED circle on its back, which should bring a modern and futuristic look to your gaming room. This monitor comes with height adjustment, pivot, swivel and tilt support.
Gigabyte Aorus AD27QD - QHD IPS Display 1440p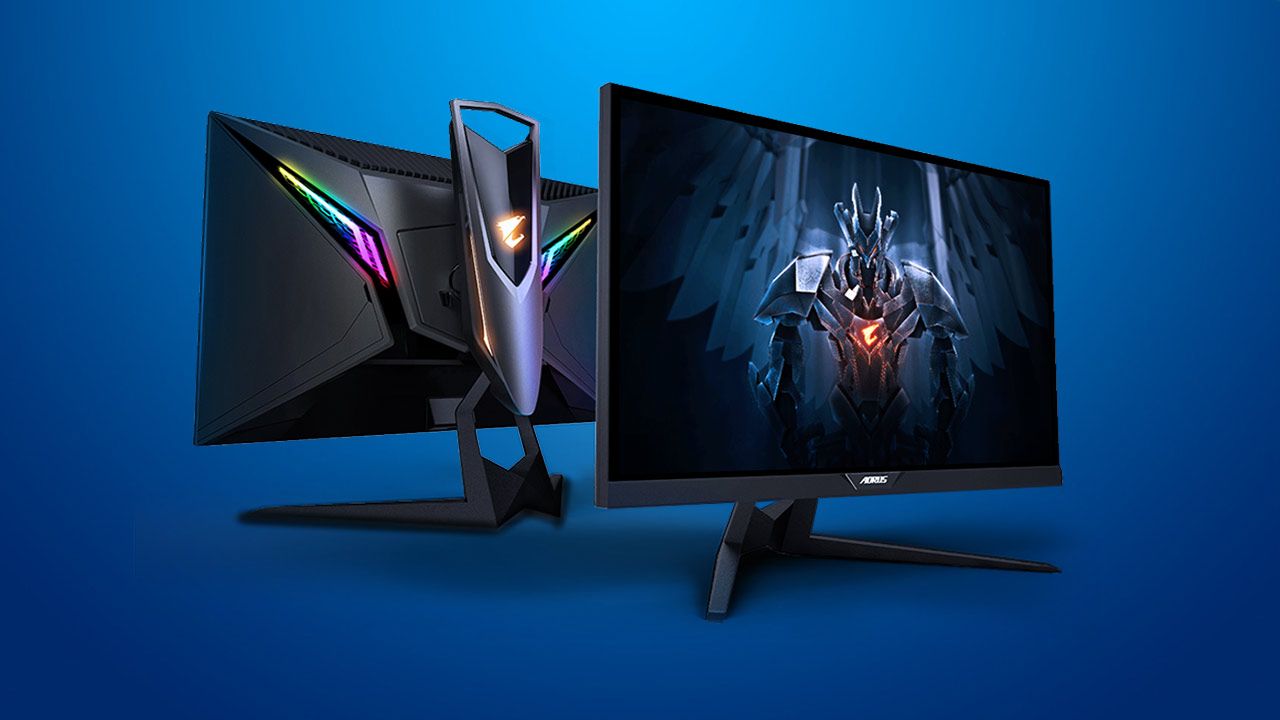 The Gigabyte AD27QD offers 144Hz refresh rate and a maximum resolution of 2560 x 1440. This monitor is advertised with 1ms (MPRT) response time, 10bits(8bits + FRC) Color IPS and 1000:1 contrast ratio, 95% DCI-P3 color gamut, HDR compatibility, Flicker-free, AMD FreeSync, Blue-light filter, Black equalizer, picture-in-picture and picture by picture support.
The design on this Aorus gaming monitor is fantastic and a personal favorite of mine, it offers very thin bezels and a great stand that offers swivel, pivot, tilt and height adjustment support, so that you can easily find the best gaming position. Also, it comes with RGB lights on its back. In terms of connectivity it comes with two USB ports, 2x HDMI ports, one DisplayPort 1.2, and a 3.5mm headphone jack.
LG 27GL850 - QHD IPS Display 1440p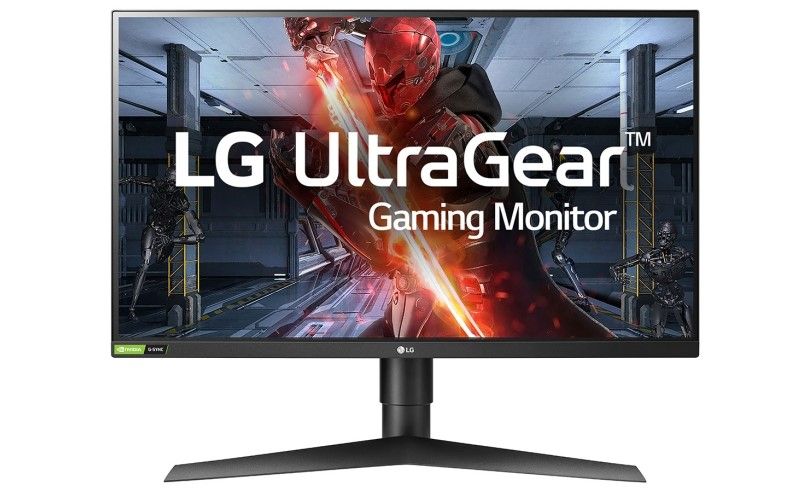 LG 27GL850 is one of the best IPS monitors with 1ms gaming and capable of displaying a maximum resolution of 2560 x 1440 @144Hz refresh rate. The 27-inch GL850 is one of the most sought after gaming monitors out there as it offers excellent motion handling, very low input lag, and great color accuracy without the need of tinkering with any of its default settings.
The panel on the LG 27GL850 sports Nano IPS and HDR10 compatibility and a gray-to-gray response time set at 1ms, which is something that should make it the fastest monitor out there. Since LG has branded it and advertised it as the gaming monitor with the fastest response time, then the model is now sold-out almost everywhere around the world, and the stocks are very limited when they do go live.
The LG 27GL850 offers 2x HDMI ports, 1x DisplayPort, 3x USB ports and 3.5mm headphone jack. For those curious about the speakers availability, then you need to know that these aren't present on this model. The LG GL850 monitor stand offers height, pivot and tilt adjustments.
LG 27UK650-W - IPS Display 4K UltraHD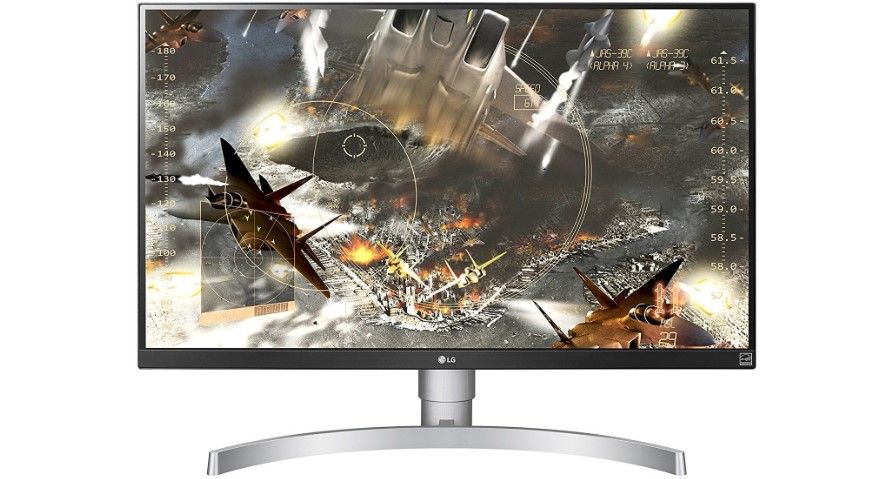 We couldn't have made a "best monitors" article without adding a 4K monitor to our list. The LG 27UK650-W is a 27-inch 4K IPS monitor that comes with AMD FreeSync and a 60Hz refresh rate. I know that this monitor doesn't offer 144Hz refresh rate, but if you want to game at 4K then at this moment only this model offers good picture quality, low input lag, and great wide viewing angles.
The design used for the 27UK650-W consists of a grey stand and dark thin bezels for an elegant look and VESA 100x100 compatibility. The stand on this model offers height, pivot and tilt adjustments.
The connectivity ports on this model are as following: 1x DisplayPort and 2x HDMI ports, all these are offering HDR gaming support. Also, the monitor features a 3.5mm headphone jack.
LG 27UD68 - IPS Display 4K UltraHD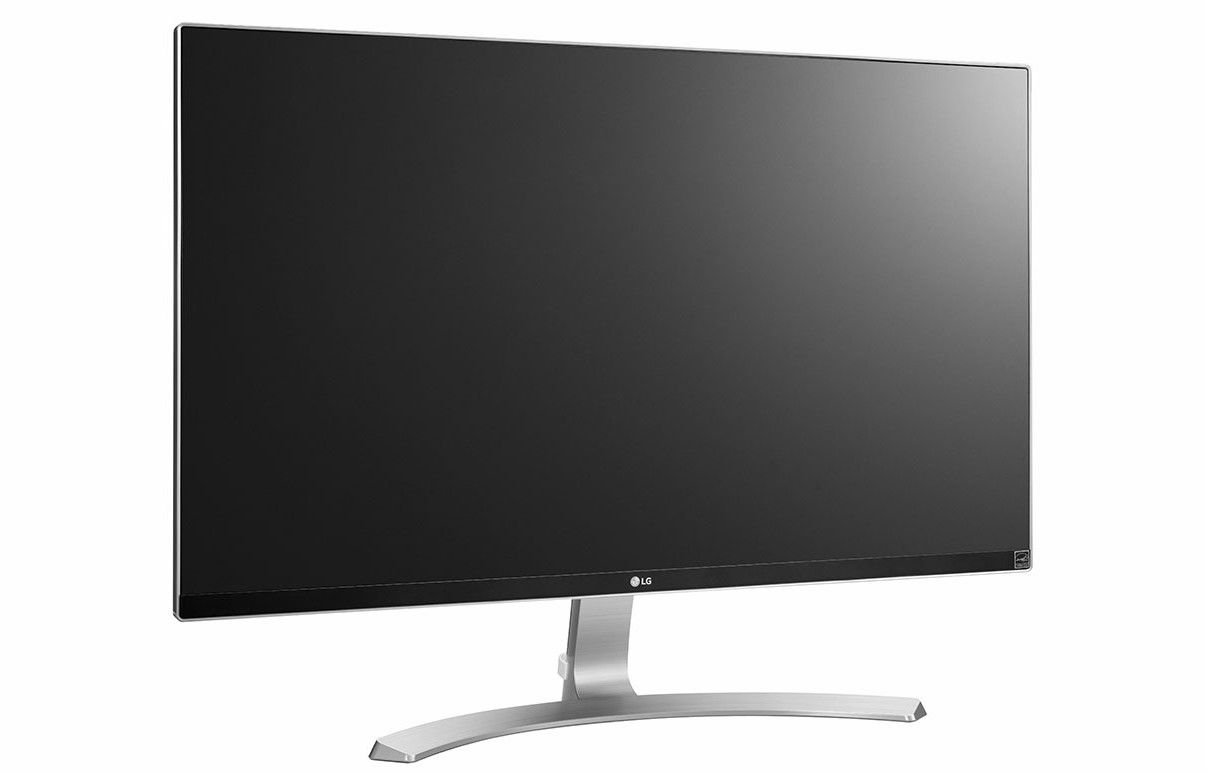 The LG 27UD68 gaming monitor also packs a 4K UltraHD IPS panel running at 60Hz refresh rate and FreeSync compatible. This model comes with Black Stabilizer, Dynamic Action Sync, custom modes for any type of game, 16:9 aspect ratio, 300 nits brightness, 5ms G2G response time, wide viewing angle, anti-glare, 1000:1 contrast ratio, 99% sRGB and 10bit color depth.
The LG 27UD68 gaming monitor offers support for 1x DisplayPort 1.2, 2x HDMI 2.0 ports, and a 3.5mm headphone jack. The stand that comes with the LG 27UD68 monitor has a detachable base, and unfortunately offers only Tilt adjustment, which is why we decided to list it as the last model. However, despite its design being pretty boring, you will still get great picture quality when gaming at 4K resolution. For those of you who want to mount it on a wall, then you should know that it supports VESA 100x100.